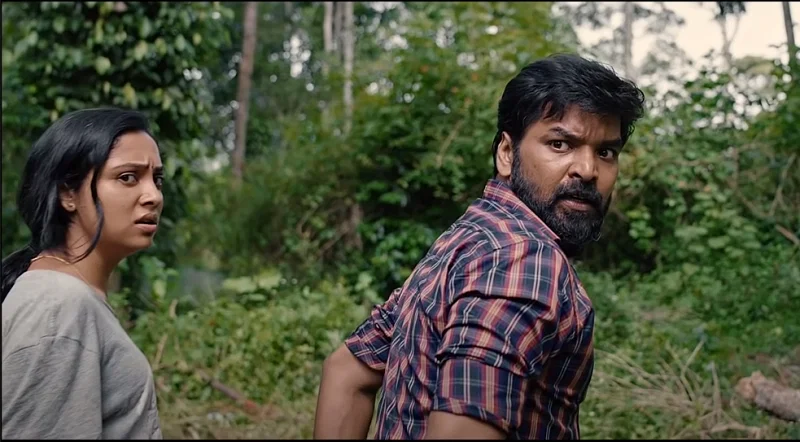 Are you planning on watching the latest thriller movies in Tamil? If yes, searching for them in aha OTT would be the best choice. A good mystery thriller movie is sure to entertain the viewers and keep them encouraged until the end. So, what about some unique thrillers with incidents (story) that far exceeds your imagination?
If you are looking for such thriller Tamil movies with a unique story, try watching Rendagam, Diary, and Kuttram Kuttrame. All these three movies have a storyline that is quite different from normal thriller movies. If you have an aha subscription, you can watch them anytime, based on your choice.
The best Tamil thriller movies that have been released recently
1.    Rendagam
The cast of Rendagam
The film Rendagam was written and directed by Fellini T P under the production company August Cinema. Rendagam film stars Kunchacko Boban and Aravind Swamy in the lead roles. The other cast members include Jackie Shroff as Adiga, Eesha Rebba as Kalyani, Jins Baskar, etc.
The story of Rendagam
Rendagam is a film with many twists and suspense that you would never expect. Even though the movie is not filled with many action parts, the twists are interesting. The film begins with a man who is given an assignment to befriend a gangster with lost memory in order to get information on a gold shipment that went missing while under the control of an individual with no memory. The movie then continues with numerous twists that turn everything upside down at the climax.
2.    Diary
The cast of Diary
The supernatural mystery film Diary written and directed by Innasi Pandiyan, features Arulnithi as inspector Vardhan Annadurai and Pavithra Marimuthu as sub-inspector Pavithra Krishnan and Chaams as Aasai Raja in lead roles. The cast selection is perfect, especially with the inspector role played by Arulnithi.
The story of Diary
A sub-inspector trainee, Vardhan Annadurai, tries to investigate a 16-year-old unsolved case regarding a missing bus. He sets out to investigate the mystery case and finds out certain information. But fate leads him to a bus, creating much more mysteries in the movie. The film also has some horror thriller parts, making it much more interesting. Most of this movie revolves around Vardhan resolving the case and finding other important information that happened many years ago. Thus, it is a unique crime thriller with a paranormal case.
3.    Kuttram Kuttrame
The cast of Kuttram Kuttrame
The film star Jai plays the lead role in the movie Kuttram Kuttrame as Eeshwaran., Harish Uthaman as SI M Naatrayan, Smruthi Venkat as Priya,  Bharathiraja as DSP Muthukaruppan, and Dhivya Duraisamy as Kokila play the supportive lead roles in this film.
The story of Kuttram Kuttrame
Kuttram Kuttrame is a crime thriller filled with one crime leading to another in a series. The whole movie is about the crimes that happened in a family, filled with numerous twists and suspense. Kuttarm Kuttrame contains many twists, one after another, providing a new solution for a particular case. Kokila dies from an overdose of sleeping pills, and her husband, Eeshwaran, gets accused of being the murderer. Later the case turns into a series of incidents until everything gets connected in the end.
Watch unique Tamil thriller movies online on aha.
Have you ever thought of getting access to an online platform filled with almost all the latest Tamil movies? Nowadays, most people are looking for a streaming platform to watch all the best Tamil movies online. If you are among them, it's time to stop searching and take a subscription in aha OTT. An aha subscription will give you access to a wide collection of Tamil movies, including the latest as well as the old ones. Thus, it has Tamil movies for everyone, regardless of their liking.
If you are interested in watching crime thrillers, you can look for movies in the related section in aha. Likewise, there are numerous sections for family drama, romance, comedy, and action movies. Above all, you can also find movies of popular Tamil film stars, sorted into separate sections like Vijay Hits, Rajinikanth Hits, Kamal Haasan Hits, etc. Thus, even if you are looking for a random selection, there are multiple options available in aha.